Is Your HR Future Driven? 2018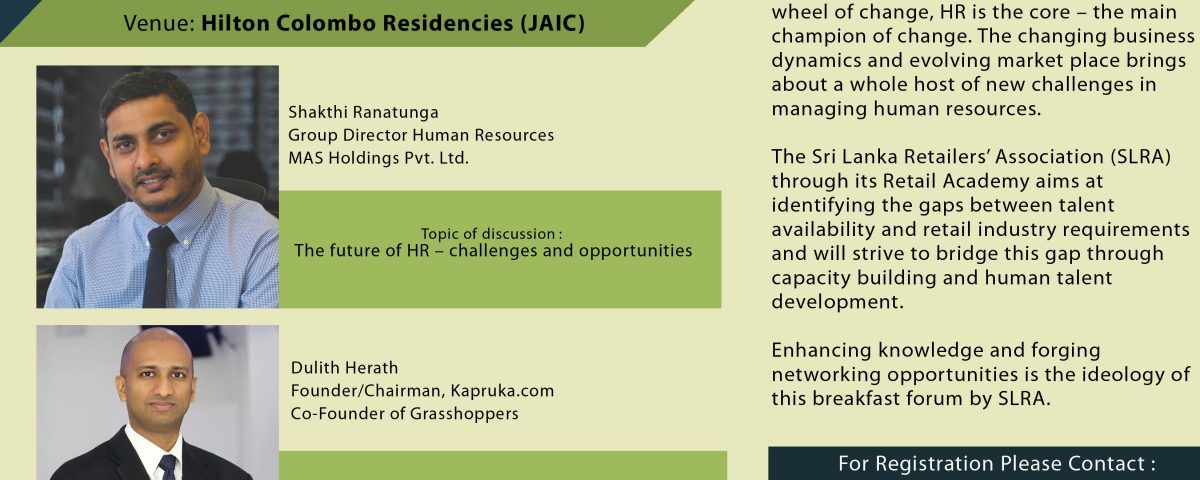 April 3, 2018
7:30 AM to 10:30 AM
Hilton Colombo Residencies (JAIC)
(+94) 115 588 800
event description
"Is your HR Future driven?" Sri Lanka Retail Academy conducts 1st HR Breakfast Forum
The Sri Lanka Retailers' Association (SLRA) www.slra.lk will conduct a Breakfast forum titled "Is your HR Future driven?" for HR Heads /CxOs under the Sri Lanka Retailers Association's Retail Academy. The objective of this programme is to create a Forum for networking opportunities with the HR fraternity in dealing with issues, challenges, and opportunities in the Retail industry.
Mr. Murali Prakash, Vice President of SLRA mentioned stated that "In this endeavor, SLRA Retail Academy aims at identifying the gaps between talent availability and Retail Industry requirements and strive to bridge this gap through Capacity Building and Human Talent Development."
The expert speakers M/s Shakthi Ranatunga, Group Human Resource Director of MAS Holdings (Private) Limited and Dulith Herath, Founder and Chairman of kapruka.com will be sharing their insights on "The Future of HR- Challenges and Opportunities" and "Leadership in the changing techno-economy and competitive environment" respectively, in a bid to groom Retail Professionals and formulate the 'HR Forum' under Sri Lanka Retailers' Association's Retail Academy.
3rd of April 2018
7:30 PM — 19:30 PM