SLRA Shopping Festival Committee meets with Hon. Minister of Finance to Launch Shopping Festival
January 31, 2017
Posted by:

Chandana Kosgallana

Category:

Press Releases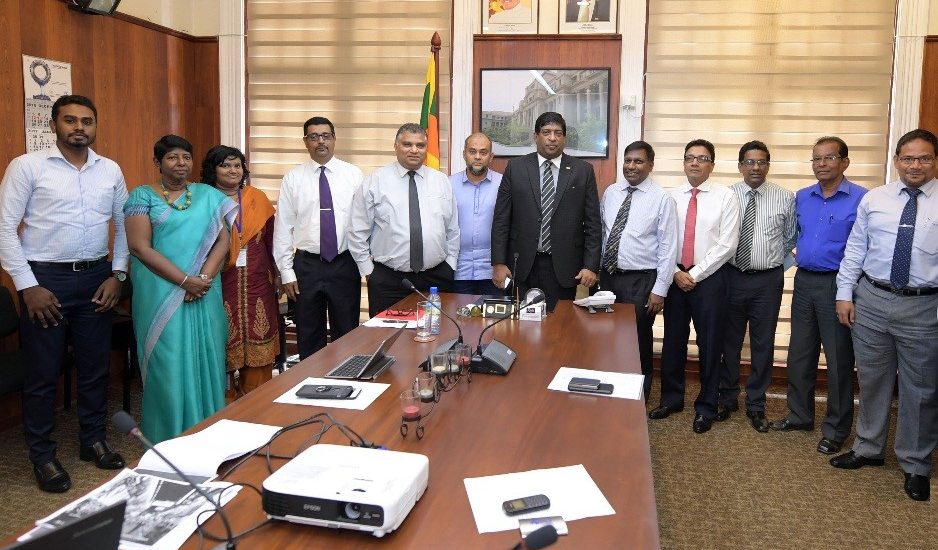 Caption from left to right: Mr.  Nauseer Ahamed, CFO of The Factory Outlet, Ms. Kaushalya Perera, Director of DSI, Ms. Rifka Ziyard, Senior Manager of KPMG, Mr. Suresh Perera, Principal – Tax & Regulatory of KPMG, Mr. Ajith Amarasekera, CEO of Swarnamahal Jewellers, Mr. Hussain Sadique, Deputy Managing Director of Hameedia and Chairman of SLRA, Mr. Ravi Karunanayake, Hon. Minister of Finance, Mr. Asoka Peiris, Group CEO of Singer and Convener of Shopping Festival, Mr. Nasser Majeed, CEO of Softlogic Retail, Mr. Leonard Perera, Founder Convener & Head of Business, Mr. Tony Bastiansz, Marketing Manager of Exclusive Lines, Mr. Mehraj Sally, Group Director of Mydeal.lk
Sri Lanka Retailers' Association (SLRA) aims to harness the resources of the Organized Retail industry to a common platform to promote Innovation and Growth in retailing. With the vision of "Achieving retail excellence" and its inclusive approach of being the "Voice of the Retail Industry in Sri Lanka", SLRA commenced its flagship activity for 2017 under the guidance of Hon. Minister of Finance, Mr. Ravi Karunanayake.
In a bid to initiate this project, Mr. Hussain Sadique, Deputy Managing Director of Hameedia and Chairman of SLRA, Mr. Asoka Peiris, Group CEO of Singer and Convener of Shopping Festival,  together with SLRA Members comprising of Ms. Kaushalya Perera, Director of DSI, Mr. Ajith Amarasekera, CEO of Swarnamahal Jewellers, Mr. Nasser Majeed, CEO of Softlogic Retail, Mr. Mehraj Sally, Group Director of Mydeal.lk, Mr. Nauseer Ahamed, CFO of The Factory Outlet, Mr. Tony Bastiansz, Marketing Manager of Exclusive Lines, Mr. Leonard Perera, Founder Convener & Head of Business met with Hon. Minister of Finance on the 25th of January 2017 at the Ministry of Finance for a discussion prompting the establishment of this event.   Mr. Suresh Perera, Principal – Tax & Regulatory of KPMG and Ms. Rifka Ziyard, Senior Manager of KPMG was also in attendance.
The Sri Lanka Shopping Festival that the Association intends organizing will be an annual calendar event for the Association the first of which, will be held in 2017, with Government patronage. A National Steering Committee involving The Ministry of Tourism, Ministry of Development Strategies & International Trade, Ministry of Plantation Industries, Export Development Board, Sri Lanka Tea Board, Sri Lankan Airlines, Hotels Association, Travel Agents Association, and Sri Lanka Retailers' Association together with Media was proposed by the Hon. Minister. This high-level Committee will be a collaborative Public-Private partnership with maximum participation from the State and Private sector which will drive and coordinate the project in line with the proposed Government allocation of Rs. 50 Million read in the National budget for 2017 for this purpose as "Colombo Fair".
The concept of this project will focus on a dedicated time period where foreign and local shoppers will be attracted with discount offers, range of choice and big savings. The idea is to create an atmosphere to encourage foreign visitors to Sri Lanka. This project will also see cultural events, sports events, musical programs, book exhibitions etc being organized.  It will be similar to the Dubai Shopping Festival, Great Singapore Sale and Malaysian Mega Shopping Carnival which will ensure the locals a first-hand experience of a shopping extravaganza!
Mr. Hussain Sadique, Chairman of SLRA says, "Currently we see an increase in tourist arrivals and there is limited activities in the country to attract shoppers. Tourist visits are usually only limited to historical locations". Commenting further, the Chairman said that the project's main objective is to attract countries in the region such as India, Bangladesh, Pakistan, Nepal, Male and  other Asian, European countries  together with the  Middle East to visit the Sri Lankan Shopping Festival. "We want to make traveling to Sri Lanka easier, faster, and exciting coupled with affordability and value for money", he said.